Armour Technocast is a leading manufacturer of investment castings by lost wax method and able to supply components in various conditions like raw, finished, assembled or as per customer's demand.
The company has earned reputation by providing castings to the various industries according to their stand requirement and also in customized size, wide range of materials.
Our experienced professionals are involved for providing a superior product value, rather than just a low unit cost with assured quality within time frame.
We are expert to provide Raw Casting and Machined Components with Highly Accurate CNC, VMC, Rotary and Milling Machines with CMM Facility.
We are providing castings with NDT, RT, TENSILE, HARDNESS, FERRITE, MICROSTRUCTURE, MP, DP Testing as well.
We employ dimensional inspection, chemical spectro analysis, physical properties testing and non-destructive testing techniques to guarantee that every casting meets customer's intended dimensional accuracy, design tolerance and structural integrity requirements.
Process
The Dies (Patterns/Tools) are manufactured using NX Software (even for 3d modeling for customers satisfaction).
ARMOUR TECHNOCAST also provides technical support to its customers to develop cost saving and more efficient products.
Injection and production of wax pattern from Dies (Patterns/tools). All Wax patterns are 100% dimensionally checked.
The Wax pattern after forming the tree or cluster undergoes the ceramic coating process. This process is done in temperature and Humidity controlled rooms, so that best dimensional accuracy and excellent surface finish is achieved.
After completing the coating process, the wax is removed by de-waxing process, which is done by putting the ceramic mold in the hot bath of wax.
The Ceramic molds are baked at temperature ranging from 900°C to 1150°C depending on the geometry and size of the casting. The molten metal is then poured in the baked ceramic molds.
The casting then undergoes fettling and finishing process such as Gate Cutting, Gate Machining / grinding, Sand Blasting, Shot Blasting, Leaching, Deburring etc.
The casting then undergo the Heat Treatment as Per the material specifications.
Heat Treatment graphs are cycles are recorded and documented.
All castings are subject to 100% visual inspection as per MSS SP-55.
All critical dimensions are 100% inspected before packing and shipment.
ARMOUR TECHNOCAST can also supply castings in machined condition.
Castings can be also supplied with various type of finishing such as passivation, Electro-polishing, Blackening, powder coating, shot blasted, Glass bead blasted.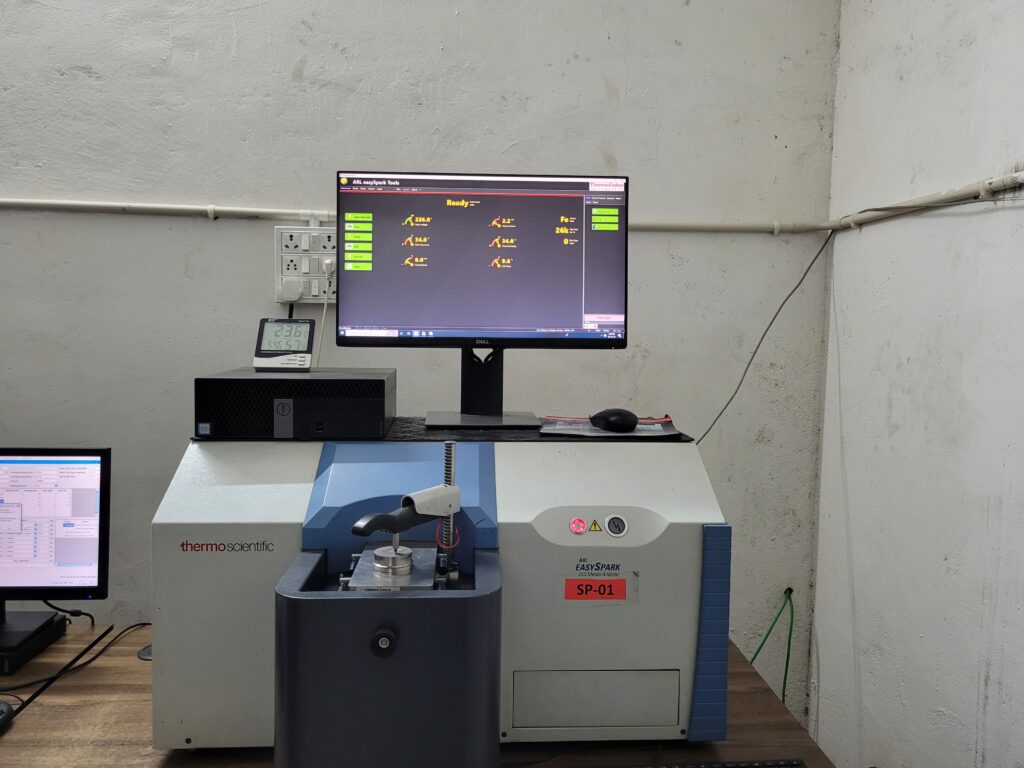 Chemical Analysis:
In house spectrometer with 5 channels capable of testing Fe, Ni, Cu, Al based materials and also Nitrogen content.
All heats poured are tested on-line on Spectrometer.
All the scrap used are also tested before using.
Specimens are stored for particular period.
Physical Testing:
In house Universal Testing Machine.
In house Hardness Testing Machine.
In house Impact test Machine.
In house metallurgical microscope.
Manufacturing Process
Investment Casting by lost wax method
Precision Machining and Buffing
Component Assembly as per Customer Requirement
Component Handling Capacity by
Size: 5500 mm (L) X 5300 mm (W) X 420 mm (H)
Pouring Wall Thickness: Minimum 0.8mm to Customer demand
Weight: 0.006 kg to 160 kg per piece.
Surface Finish : Ra3 to Ra6
Materials Offered
We are Providing Various grades according to ASTM, AISI, DIN, EN, GOST, JIS and other international standards. Flexibility of selection from Austenitic Stainless Steel, Carbon Steel, Low Alloy Steel, Martensitic Stainless Steel, Duplex steel, Precipitation Hardened Steel, Ductile Iron, Cast iron, Aluminium Alloy, Copper Alloys and any specific requirements.
Production Capacity
1500 MT per annum.
Supply condition
Raw, finished, assembled or as per customer's demand.
Services
Machining
Special Heat Treatment
Surface Treatment
Assembly
Mechanical Property

 

Chemical Property
Microstructure
MP
PMI
DP
Ferrite Testing
Radiography testing
AUTOMOTIVE INDUSTRY

AGRICULTURE INDUSTRY

MINING INDUSTRY

HARDWARE INDUSTRY

TEXTILE INDUSTRY
Facilities
Inspection & Testing Equipments
| No | Description | Make | Qty |
| --- | --- | --- | --- |
| 1 | Optical Emission Spectrometer | ARL | 1 |
| 2 | Utm (Digital) | Meta | 1 |
| 3 | Electronic Extensometer | Meta | 1 |
| 4 | Computerize Hardness Tester | Meta | 1 |
| 5 | Impact Testing Machine | Meta | 1 |
| 6 | Surface Plate | Luthra | 1 |
| 7 | Digital Vernier | Mitutoyo | 3 |
| 8 | Digital Height Gauge | Mitutoyo | 1 |
| 9 | Combination Set | Yamayo | 1 |
Armour technocast will form a group of companies specilised in casting and foundry development With future goals of suppling 2400 mt of investment casting to global and domestic customers. And even establishing an 2 new casting division for sand casting and alluminium casting to mach the global demand .
You are welcome to visit our Company. For orders and sample requests, please call us or send us an email.
Location
Survey No.47/1 Bhunava, Gondal, Rajkot – 360311
Gujarat – India.
info@armourtechnocast.com
armourtechnocast@gmail.com
Business Hours
Thursday to Tuesday – 9am to 5pm
Wednesday – Off
Note: All Commercial Holidays are Applicable
24 x 7 Live Customer Support Available